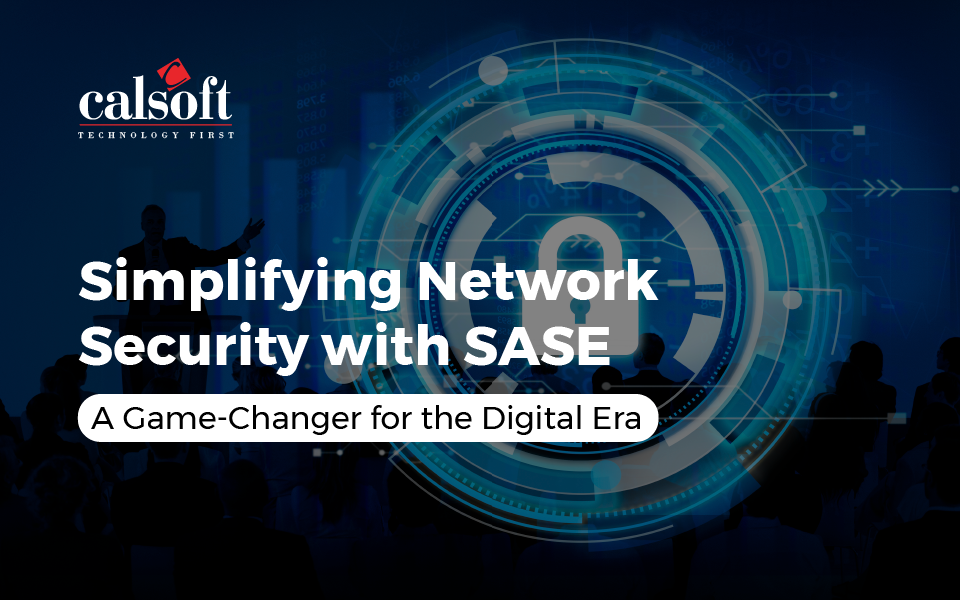 In today's rapidly evolving digital landscape, organizations face numerous challenges in managing their networks and ensuring robust security. A revolutionary networking and security framework called SASE (Secure Access Service Edge) has emerged to address these complexities. Introduced as a unified cloud-native architecture, SASE combines Wide Area Networking (WAN) capabilities with comprehensive security services.
SASE has become a critical enabler for transforming enterprise operations, remote work, and cloud services. Traditional networking and security models were designed for on-premises data centers, which often struggled to meet the demands of modern enterprises. SASE, introduced as a concept by Gartner in 2019, offers a holistic approach by converging networking and security functions into a single cloud-based service. This enables organizations to securely connect users, devices, and applications regardless of their location.
Solving Business Complexities with SASE
The advent of SASE into the business has solved multiple business complications while enhancing the customer experience. Let's explore the issues addressed by and the key benefits of SASE:
Reduced Network Complexity: SASE simplifies network architecture by consolidating networking and security functions. It eliminates the need for multiple-point solutions providing a centralized platform for network management, reducing complexity and operational overhead. This is typically done by consolidating networking and security functions on top of a unified cloud-based platform.
Enhanced Security: With the possibilities and scopes of remote work being heightened, and the number of cloud applications being introduced in the market, organizations (Small, Medium, and Large Enterprises) are facing higher chances of vulnerabilities and risks. SASE integrates various security services, including firewall-as-a-service, secure web gateways, and zero-trust network access to address the vulnerabilities. It ensures consistent security across all users and applications, regardless of their location, mitigating security risks and safeguarding critical data.
Consistent User Experience: The traditional network architecture fails to provide a compelling customer experience for remote and mobile users. SASE overcomes this challenge by optimizing network performance by leveraging cloud-native technologies and global Points of Presence (PoPs). It offers dynamic traffic routing, Quality of Service (QoS) capabilities, and caching mechanisms, resulting in improved application performance and seamless user experience.
Scalability and Agility: With many businesses adopting digital roadmaps, the demand for scalable, agile, and flexible services becomes difficult with traditional network architectures. The introduction of SASE has solved the problem as the underlying architecture enables the enterprise to scale up/down their availability on demand, adapting to the dynamic business requirements.
Compliance and Regulatory Requirements: Digitalization in industries is driven and regulated through strict compliance and regulatory requirements for Data Privacy and Security. The introduction of SASE incorporated additional security protocols like data-loss prevention, encryption, and access controls, enabling organizations to attain these requirements. Thus, providing visibility and control over dataflows, ensuring compliance with industry standards.
Real-World Use Cases of SASE
Now let's see how SASE is enhancing the security aspects.
Network Transformation: Telecommunication service providers can leverage SASE to transform their network architectures and move towards a cloud-native model. By adopting SASE principles, they can consolidate and virtualize networking and security functions, reducing the dependency on hardware-based solutions. This enables service providers to offer their customers flexible and scalable network services, accelerating service deployment and improving agility.
Managed Security Services: With SASE, telecommunication providers can enhance their managed security services portfolio. By integrating security services, such as secure web gateways, firewall-as-a-service, data loss prevention, and zero-trust network access, into their network infrastructure, they can offer comprehensive security solutions to enterprises. SASE allows service providers to provide unified security services across their networks, protecting customers' data and applications from emerging threats.
Secure Remote Access: SASE enables secure remote access for users connecting to corporate resources from various locations and devices. With SASE's ZTNA (zero-trust network access) capabilities, organizations can enforce strict authentication and authorization protocols, ensuring that only authenticated and authorized users can access sensitive applications and data. SASE provides granular access controls, identity verification, and encryption, mitigating the risk of unauthorized access and protecting against data breaches.
Cloud Security: As organizations increasingly adopt cloud services, securing cloud-based applications and data becomes crucial. SASE integrates security services into the network architecture, such as secure web gateways, cloud access security brokers (CASBs), and data loss prevention (DLP). This enables organizations to implement consistent security policies across cloud resources, monitor and control data flows, detect and prevent threats, and ensure compliance with security and privacy regulations.
Data Protection and Privacy: SASE offers robust data protection and privacy capabilities to safeguard sensitive information. It includes features such as data loss prevention (DLP), encryption, and access controls, ensuring that data remains protected across the network. SASE allows organizations to classify and monitor data, detect and prevent data leaks, and enforce encryption to safeguard data in transit and at rest.
Threat Detection and Prevention: SASE incorporates advanced threat detection and prevention mechanisms into the network security framework. By leveraging technologies like next-generation firewalls, intrusion detection and prevention systems (IDPS), and security information and event management (SIEM), SASE can identify and block malicious activities, detect anomalies, and respond to security incidents in real-time. The unified view of network and security events provided by SASE enables proactive threat hunting and faster incident response.
Secure IoT Connectivity: With the proliferation of Internet of Things (IoT) devices, securing connectivity and data exchange becomes paramount. SASE provides secure connectivity for IoT devices, ensuring that they can communicate securely with the network and are protected from unauthorized access. SASE's identity-based access control and segmentation capabilities help create secure IoT environments, preventing potential security breaches and protecting critical infrastructure.
Conclusion
SASE represents a paradigm shift in networking and security, addressing the complexities of the digital era. By consolidating networking and security functions into a unified cloud-native platform, SASE simplifies network architecture, enhances security, and improves user experience.
Calsoft, an expert in Networking, and Security Domain have the right set of competencies to deliver quality projects. With our dedicated Center of Excellence (CoE), we offer a strong focused offering that enables the Telcos, CSPs, and MSPs to fulfill their needs.