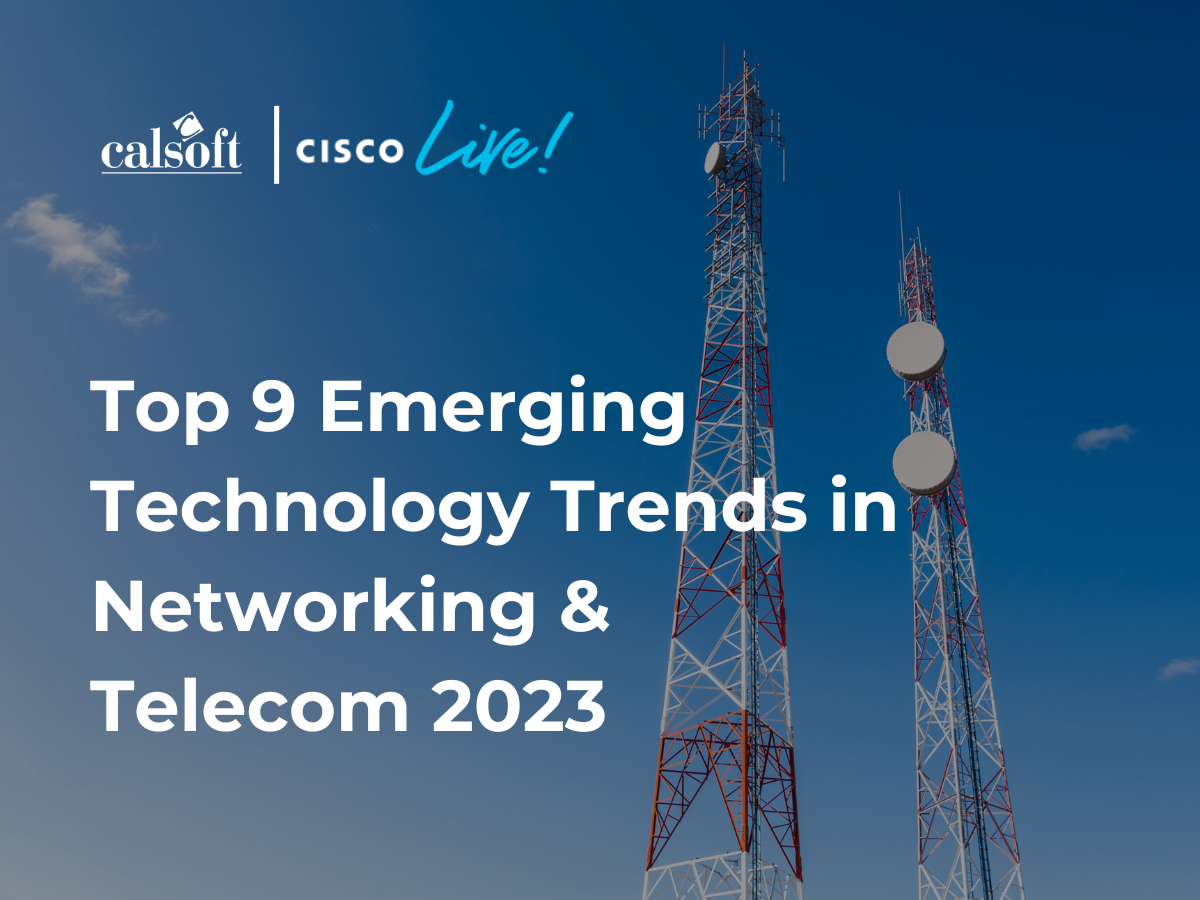 The technology domain is continuously evolving with innovations and immense potential to create intelligent solutions for the future. Evolving technology remains to be a critical force for digital transformation which gives breakthroughs for enterprises ensuring better productivity and profit.  
In 2023, we can witness exciting cutting-edge technology trends which can change the way we live, work, and network with each other. Read the blog to explore the latest pioneering technology trends and their significance in the market today.  
The transformation from Cloud-Native to Edge-Native
Although edge computing is considered an extension of cloud computing. However, edge computing requires a fully distinct deployment and development ecosystem. Cloud-native technologies grant businesses to develop and run scalable applications in innovative, dynamic ecosystems such as public, private, and hybrid clouds.  
Edge native applications are built with edge computing capabilities, which cannot be operated in a centralized data center. Enterprises prefer to bring cloud-native architectures and applications to the edge. This is done to achieve low latency, effective bandwidth consumption, and security with uninterrupted operations.  
Cybersecurity
Cyberattacks and threats are increasing and becoming complex with technological advancements. Every year, reports say that cybercriminals are more prolific and worsening the threat landscape. Technology evolution also increases the number of users, devices, and software to provide innovative and futuristic solutions.  
An integrated approach should be followed for security implementation to deliver next-generation services. To cope with cyberattacks, key security trends are evolving in the cybersecurity market such as application security, cloud, and edge security, IoT and mobile security, and Zero Trust framework.  
SD-WAN Security Evolution to SASE
Although SD-WAN provides good WAN connectivity, it is not adequate to meet modern digital enterprises' requirements. The networking and security challenges being dealt with by modern enterprises cannot be addressed with SD-WAN. This is where Secure Access Service Edge (SASE) comes into the picture.  
The main benefit of SASE is the cloud-native architecture which simplifies management and the creation of a global network backbone that connects and secures all enterprises' edges with low cost, better performance, and agility.  
Open RAN (ORAN)
One of the fascinating trends in the telco industry is network disaggregation. The network is disaggregated into multiple components that can be mixed and assembled depending on the use case model. This is achieved by utilizing the principles of Software Defined Networking (SDN) and Network Function Virtualization (NFV).  
With Open RAN, the distinct functions of the base station are split into – Centralized Unit (CU), Distributed Unit (DU), and Radio Unit (RU) based on open standards and interfaces, which will boost multi-vendor and cost-effective implementations. The critical disruption in Open RAN is the RAN Intelligence Controller (RIC) which brings interoperability, flexibility, and programmability to the networks.  
Content Delivery Networks (CDN)
CDN or Content Distribution Networks constitute a group of interconnected servers which provide high accessibility and performance by spatially distributing the service to the customers. The fundamental purpose of CDN is to reduce the overall latency, ensuring better efficiency by placing intermediate servers. This reduces bandwidth consumption and ensures good Quality of Experience (QoE) for the users.  
According to the Vantage Market Research report, the global Content Delivery Network Market is predicted to grow at a Compound Annual Growth Rate (CAGR) of 11.80% throughout the forecast (2022-2028) and top in value by 2028. 
Private 5G
Enterprises have initiated embracing Private 5G to lighten security and efficiency challenges. The upcoming substantial advancement in digital transformation is 5G Non-Public Networks (NPN) or Private 5G Networks. Enterprises are competing and driving towards enhanced digitization with emerging technologies like 5G, Wi-Fi 6, and AI.  
Private 5G has gained recognition among industry verticals, especially in the manufacturing, agriculture, automotive, and healthcare sectors. These innovations question whether 2023 will be the year of Private 5G. 
Sustainability: Road-to-Net Zero
Sustainable technologies refer to innovations that embrace economic and social development. The main aim of such technologies is to significantly cut down environmental and ecological threats and to establish sustainable solutions for the future. At present, enterprises are confronting critical sustainability constraints such as decarbonization or net-zero emissions.  
Enterprises can holistically coordinate green and social transformation with the help of Environmental Social and Governance (ESG) data, digital expertise, and innovative designs. 
Generative AI
Several advancements happened with AI technology. The release of ChatGPT, Open AI chatbots has cut down the human task to generate high-quality content based on the trained data.  
Generative AI indicates deep-learning models which produce superior-quality text, representations, and other content created on the data they were trained on, as an alternative to naively classifying or distinguishing data like other AI. Generative AI has become a "slogan" this year, winning the public's desire.  
Internet of Things (IoT) & Industrial Networks
The IIoT market is expanding as different industry verticals integrate IoT technology for smart manufacturing, healthcare, logistics, and more.  
IIoT enables more connected devices supporting new business models. Some of the leading IIoT trends of today which will impact the prospect of industries in 2023 include Digital Twins, Smart Grid, Precision Agriculture, and more.  
The Way Ahead 
Digital transformation has become an inevitable trend with the latest promising technologies which define innovative business models. In 2023, enterprises that embrace these latest technological trends will be able to grow as per the market demands. What variety of use cases emerges depends on how these enterprises utilize the benefits of these technology trends in their operations.  
Another great insightful event Cisco Live 2023 is yet to happen on June 4-8! Cisco Live will light creativity, and inspire, and educate technology leaders worldwide through extensive technical events as well as on-demand sessions. Cisco Live 2023 event will be the leading destination for Cisco customers and collaborators to win knowledge and build community. 
As a "Technology First" company, Calsoft quickly swings to changing market dynamics. Calsoft pioneer in offering smart product engineering, quality engineering, UI/UX, DevOps, and more services to storage and networking companies. Yes, Calsoft is attending Cisco Live 2023 to connect with the brightest minds in the industry and exchange the latest trends and insights. 
Catch up with our team of networking & telecom experts at Cisco Live and get personalized insights. Book a Meeting with Somenath Nag, Telco Practice Head, and Bobby Mathew, Sr. Director – Business Development at Calsoft.