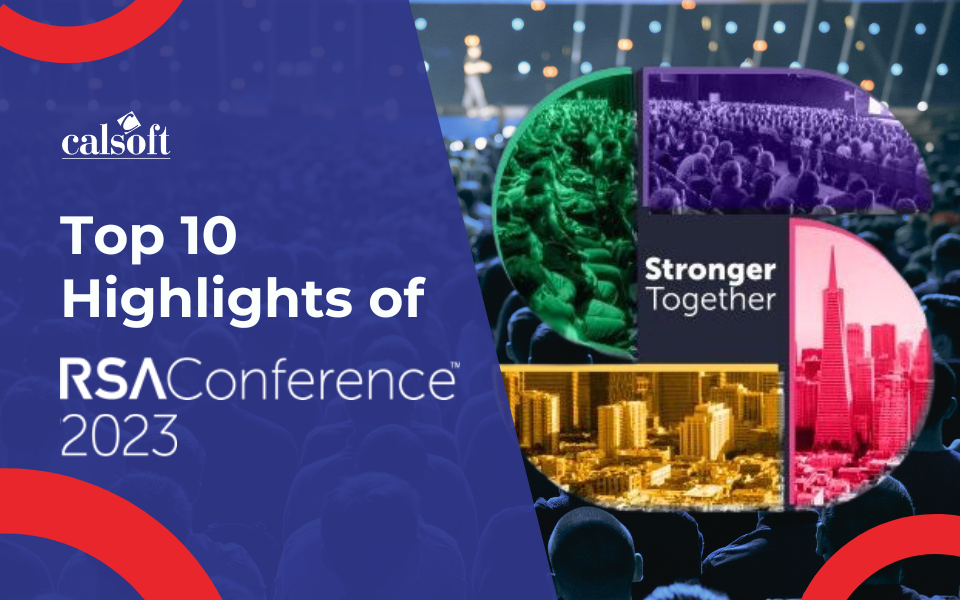 RSA Conference 2023 was a remarkable event, converging IT professionals from all over the world. From keynote presentations to panel discussions and hands-on workshops, this event showcased some of the best minds in security technology.
A brief about RSA Conference
The RSA Conference 2023 held at Moscone Center, USA, has concluded with a resounding success. Thousands of attendees from around the world gathered to celebrate, innovate, propagate, inspire, brainstorm, and imagine the future of Cybersecurity. For more than 3 decades, the RSAC has been at the global forefront of defining the 'next step' of cyber security. 
The RSAC was founded in 1991 by Jim Bidzos, the CEO of RSA Data Security Inc., the company that developed the public-key encryption technology we use today. Growing from 200 attendees in 1993 to more than 45000 attendees every year, the RSA Conference has made remarkable contributions to the cybersecurity sector on a global front. There are countless highlights and significant discussions that made RSAC 2023 an unforgettable experience.
Calsoft's security experts had the privilege of attending the RSA Conference 2023 to connect with innovators in the security domain and this blog summarizes the takeaways and highlights from this amazing event. 
Top 10 Highlights of the RSA Conference 2023
Using AI for the Societal Benefit




AI was of utmost importance for this year's RSA conference, as experts across the globe presented their views on using Artificial Intelligence for the greater good. Timnit Gebru, Co-founder of Google's Ethical AI team, presented her insightful, and thought-provoking research around '

Algorithmic bias, and its implications for our society

'. Her research and its findings emphasized the necessity of ensuring the ethical and responsible usage of AI, and how it has the power to benefit everyone.

AI-Powered Security Solutions




Symantec, a cybersecurity company owned by Broadcom Inc. showcased its new 'Threat Intelligence Network' along with many of its AI-powered security solutions. They are designed to detect cyber threats efficiently and accurately. The TIN shares threat intelligence to organizations across the industry, which enables multiple organizations across various industries, to be prepared against cyber attacks.

Cloud Security:

Google presented its Cloud Security Solutions, which is equipped with many tools and frameworks for securing cloud infrastructure and GCP-based applications with end-to-end protections

.

The Cloud Security Solutions detects suspicious activity with machine learning algorithms, to quickly respond with automated remediation, revamping access and controls, broad-level security, and endpoint security solutions.

Zero Trust Framework:

Keynote Speaker: Microsoft CEO Satya Nadella emphasized the importance of security and privacy in the digital age. He suggested that companies must embrace a "zero trust" approach to security, which means verifying all users and devices before granting access to data. Microsoft's zero-trust framework offers end-to-end security by eliminating conventional network boundaries like firewalls and VPNs. The framework enables companies for real-time user behavior identification, to respond to potential threats or malicious users within the network.

 

Automated Threat Detection & Response:

Palo Alto Networks presented its automated threat detection & response platform. The platform uses Machine Learning for faster threat detection and deploys automated responses to counter them. Additionally, the solution can also block malicious traffic, isolate broken network sections, and help to protect sensitive data. 

Cybersecurity Governance:

IBM demonstrated its cyber security governance framework for helping organizations create a unified approach to risk management. The framework guides nuanced tasks like policymaking, process control, and assessing organizational readiness, people readiness, and technology readiness.

 

IoT Security:

Honeywell presented its new "Connected Home Security" solution which provides end-to-end protection for connected devices in the home environment. The solution includes an encrypted network, secure storage, and authentication technologies to protect data and ensure that only authorized users can access it. 

 

Automated Compliance:

Splunk presented its automated compliance solution which helps organizations meet their regulatory requirements quickly and efficiently. The solution uses machine learning algorithms to detect potential violations of security policies in real-time and can automatically respond with corrective measures if necessary. 

 

Blockchain Security:

R3 presented its "Corda Enterprise" blockchain platform which provides end-to-end security for distributed applications. The platform uses encryption, digital signatures, and consensus algorithms to ensure that transactions are secure and can be tracked in real-time. 

 

Security of the Future:

As the final keynote speaker, Facebook's CTO Mike Schroepfer discussed the importance of building a secure future for organizations. Mike highlighted that technologies such as automation, IoT, NLP, VR/AR, AI/ML, blockchain, 5G, EDGE, etc. require further innovation to be integrated within our workflows. He believes that these technologies and our ability to implement them on a mass scale are key to a brighter future for cyber security.

 
RSA Conference 2023 demonstrated the need for reinforcing our efforts in protecting the digital world. The conference urged organizations to integrate a 'safe AI' that holds the power to help us grow. Topics like cloud security, zero-trust frameworks, automated threat detection & response, governance, IoT security, automated compliance, etc. were discussed in detail. Through groundbreaking discussions and presentations, RSA Conference 2023 will play a huge role in shaping the future of security. 
Containerization is one of the most revolutionary technologies that are extremely popular in the current tech space. But at the same time, Containers have many points of vulnerabilities in terms of security. With that in mind, check out the detailed Hawkeye Report we published about 'Best Practices for Container Security'.  
About Calsoft
Calsoft, a product engineering & IT services company based out of San Jose, California, has worked on many innovative and transformational projects in the security space. The engineering teams at Calsoft have pioneered, developed, deployed, and optimized security systems for their customer. With an experience in end-point security, security automation, DevSecOps, data protection, container security, microservices security, NFS security, central security engine, etc. Calsoft is highly equipped for helping its customers secure their IT systems.
Reach out to me and other Calsoft experts at – Calsoft, and start securing your infrastructure with services that 'make a difference'.