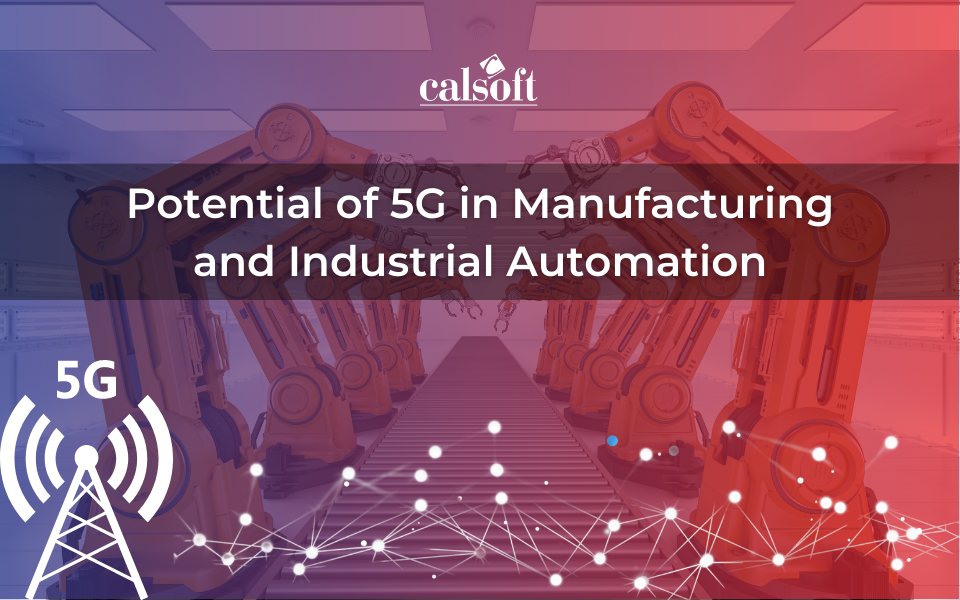 The Fourth Industrial Revolution (Industry 4.0) with the key emerging technologies such as Artificial Intelligence (AI), edge computing, and private wireless networks can digitally transform the manufacturing industry. At present, enterprises are striving hard to provide the connectivity, superior quality of service, and energy efficiency, particularly when it comes to Industrial IoT applications (IIoT). With the above-mentioned enabling technologies, Industry 4.0 is transforming the manufacturing industry by delivering more connected, efficient, and productive environment.  
However, current network infrastructure and technologies are unable to handle the massive amount of data and growing demands of new manufacturing applications. 
What technologies or advancements can fulfill the desire of manufacturing industries for enhanced network capacity, coverage, and quality? 
The answer to the above question is 5G – Next-Generation robust Communication Network and Promising technology for Manufacturing and Industrial Automation! 
A recent study by ABI Research foresees the extensive implementation of 5G technology in the manufacturing sector by 2028. The study also discloses that the manufacturing industry alone will generate 25% of the total revenue in the 5G global market. 
Read on to learn how 5G can impact and benefit manufacturing and industrial automation. 
In addition to enhanced speed, 5G has several capabilities as listed below, which can improve the manufacturing industry.  
Edge Computing: Edge computing brings the data processing close to the network edge, reducing the overall end-to-end latency and enhancing the Quality of Experience (QoE). This is crucial for manufacturing industry where the services are expected to be delivered cost-effectively with high quality, greater reliability, low latency, and better security. 
Data Collection and Analytics in Real-time: To support very low-latency and higher bandwidth services in 5G, the data processing and analysis should be performed at the edge. As 5G supports massive connectivity among wide categories of devices (sensors/gateways/controllers), a huge amount of data needs to be analyzed in real-time. This helps manufacturing industry to derive valuable insights for real-time decision making to ensure reliable operations.  
Predictive Maintenance: This type of maintenance always tracks the health status of equipment and monitor its performance in real-time. For instance, by using sensors, data analytics, and machine learning algorithms, predictive maintenance can identify potential equipment failures before they occur, assuring worker safety. 
Greater Speed, Low Latency, and High Reliable Connectivity: 5G networks can provide a higher data rate up to 10 Gbps, low latency of less than 1ms and 99.999% of high reliability while delivering services. The high reliability of 5G also ensures that data transmission is uninterrupted, reducing the risk of machine downtime and increasing productivity. Massive Machine Type Communication (mMTC) is a critical component of the 5G network services that provide low-cost, low-power, and reliable connectivity for a massive number of IoT devices. mMTC can support connection densities of up to one million devices per square kilometer, enabling massive IoT deployments or Industrial IoT applications.  
Private 5G: This wireless Local Area Network (LAN) uses 5G-enabled technologies to form a network with dedicated bandwidth and infrastructure to meet the specific connectivity requirements of enterprises. Private 5G networks have the potential to transform the manufacturing industry by enabling new levels of connectivity, automation, safety, resource management, and flexibility. Private 5G networks can enable advanced technologies which are fundamental to smart manufacturing such as Automatic Guided Vehicles (AGVs), Augmented Reality (AR)/ Virtual Reality (VR), digital twins, etc. 
Enhanced Automation: 5G networks can enable increased automation of manufacturing processes, leading to reduced labor costs and improved efficiency. For example, robots can perform tasks that are repetitive or hazardous to humans, while the workforce can focus on critical tasks. This reduces faults and the risk of fatal accidents. 
Cybersecurity:  With its high-speed data transfer capabilities, 5G networks can facilitate real-time monitoring and control of manufacturing processes, allowing for immediate identification and response to potential security threats. Private 5G/LTE deployments help the manufacturing sector to address some of the security challenges. A dedicated Private 5G network can restrict access and block unauthorized interaction in real-time. Moreover, 5G can offer high-quality, real-time video support for surveillance. 
Do you Know? 

Way Ahead 
The potential of 5G in manufacturing and industrial automation is vast. The capabilities of 5G enabling massive connectivity, higher speed and ultra-low latency services makes it an apt technology to facilitate IIoT applications. The further enhancements in the 5G technology can have an enormous impact for the manufacturing and automation industries in the coming years. 
Calsoft's IT and technology solutions for digital manufacturing help them evolve from traditional manufacturing to next-generation manufacturing. Our partnership with Microsoft, AWS, Software AG, ServiceNow, and Snowflake helps us in driving digital transformation for our manufacturing customers.  
Explore more about our Digital Transformation Services for Manufacturing Industry  
Accelerato.AI – a new-age cloud-based data analytics platform 
Contact our 5G experts to get answers to your queries related to Manufacturing Evolution.  
References  
[1] Hiren Kanani, "Promising 5G Technology Use Cases in Manufacturing", January 2023. Plutomen  
[2] "Smart Manufacturing Powered by 5G", 5G in Manufacturing: PwC  
[3] "How 5G is the catalyst for Industrial Automation growth", Arttha5G 
[4] Kashyap Vyas, "5G and Industrial Automation: Practical Use Cases", April 2022, IT BUSINESS EDGE