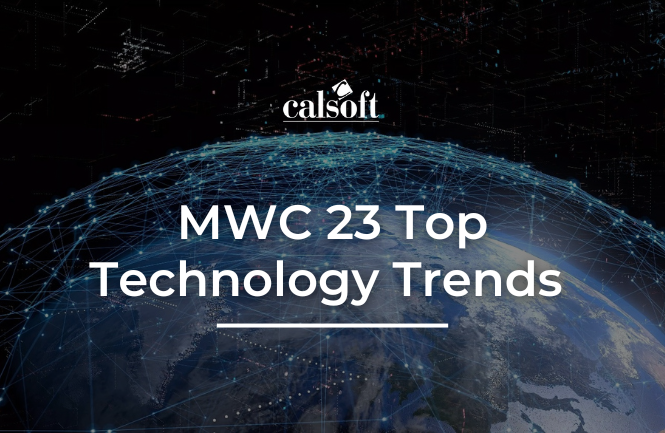 Mobile World Congress (MWC) is the world's largest exhibition for the mobile industry, bringing together leading mobile operators, device manufacturers, technology providers, and vendors from around the world. The event typically features keynote speeches from industry leaders, highlights of the latest mobile technology, and discussions about the future of the industry. 
MWC 2023 organized by Groupe Speciale Mobile Association (GSMA), wrapped up after enticing more than 88,500 in-person attendees from over 202 countries and territories, making the event technically incredible. As the MWC 23 ends, the technology and telecom industry have a strong vision of how the coming years will flourish the telecom service portfolios with newer products, trends, and technologies. 
The major focus of MWC 23 was the sustainability and the future of enterprise connectivity solutions. In this blog, Calsoft research highlights the top 10 technology trends from MWC 23 event and how these trends grow over 2023! 
5G Monetization

 

Monetizing the investment in 5G infrastructure is crucial for telcos to stay ahead in the game. With the increased speed and capacity of 5G networks, telcos can offer new services and products, target enterprise customers, leverage partnerships, offer tiered pricing, and expand into new markets. These strategies can help telcos to monetize their 5G investment and unlock new revenue streams. For instance, leveraging 5G technology to generate new revenue streams in industry verticals such as Digital Healthcare, Education, and Manufacturing. 

Vodafone and Ericsson together presented a joint cloud gaming or eSport demonstration which highlighted the elements essential to 5G monetization – 5G Standalone, Network Slicing, and Exposure capabilities. These key elements enable innovative monetization for CSPs. This will enhance the network performance and open the network to various ecosystems such as gaming providers.

 

Satellite-based Connectivity – Key enabler for telcos

 

One of the key themes discussed during the event was the significant role satellite connectivity can play to ensure connectivity in rural environments. Satellite-based connectivity or Non-Terrestrial Networks (NTN) can eliminate the need of deploying expensive infrastructure or Terrestrial based stations in rural areas. 

AI and the Metaverse

 

The concept of the Metaverse, a virtual reality world where people can interact with each other and with digital objects in a simulated environment, was the hottest industry topic at MWC 23. Artificial intelligence (AI) plays a key role in the development and functioning of the Metaverse. 

AI can help to create more realistic and interactive virtual environments by enabling the simulation of real-world physics and help to personalize the virtual experience for each user, based on their interests, preferences, and behavior. 

vRAN to hasten Open RAN Deployments

 

Virtualized Radio Access Network (vRAN) is the enabler for open, agile, flexible, and scalable network design – Open RAN framework. This innovative solution brings openness and intelligence to the network, eliminating vendor lock-in. Open RAN support quick network deployments to realize novel services with reduced cost. 

At MWC 2023, Samsung Electronics and Vodafone announced plans to accelerate 5G Open RAN expansion within Europe, beginning new initiatives in Germany and Spain.

 

Juniper Networks successfully exhibited the use of its Open RAN RAN Intelligent Controller (RIC) on Vodafone's network, letting the operator present service differentiation.

Significance of Edge-to-Cloud Computing

 

With the proliferation of a substantial number of connected devices with IoT applications, massive amounts of data are generated at the network edge. The real-time processing of these data at the network edge highlights the importance of edge computing – collecting, storing, and computing the data at the edge.

Particularly, Google and Microsoft at MWC announced products relating to edge and cloud deployments. Google announced an update to its Google Distributed Cloud (GDC) Edge solution, empowering Service Providers (SPs) to deploy cloud-native networks in hybrid cloud environments.

 

Private Networks to Realize more Industry Verticals

 

In the connectivity landscape, the Private 5G or Enterprise market is gaining a lot of momentum. The roll-out of standalone 5G networks can offer better opportunities and revenue streams for SPs in the Private 5G market. Manufacturing Industry will be highly benefited from Private 5G which helps to optimize their operations by providing real-time monitoring of equipment and processes, enabling predictive maintenance, and improving overall efficiency. 

Digital Transformation is fueled by Private 5G which ensures deployment flexibility and availability of the network. Having a standalone Private 5G will be adequate for enterprises to underpin next-generation services. Private 5G will be an enabler for Industry 4.0 transformations together with other key advancements such as MEC, Open RAN, Orchestration, and Automation. 

Sustainability in 5G Network Roll Out

 

There is a growing need for a greater focus on sustainability in the roll-out of 5G networks. 5G networks are expected to be the backbone of the digital economy, enabling high-speed connectivity and low-latency communication for a wide range of applications, from autonomous vehicles to smart cities. However, the increased demand for data and the deployment of large numbers of base stations and other infrastructure can also have a significant environmental impact. Virtualization, Green energy, and circular economy principles are some of the sustainable practices as 5G networks accelerate. These practices make the network environmentally stable and socially responsible. 

6G Technology

 

6G research is already underway, with researchers and industry experts exploring the potential applications and technologies that may be used in the next generation of wireless networks. While 5G is still being deployed globally, researchers are already looking ahead to the next generation of wireless technology, which is expected to offer even faster speeds, lower latency, and greater reliability than 5G. 

Wi-Fi 7 and Standalone Networks to Influence the Private 5G

 

Apart from cellular technologies, non-cellular technologies like Wi-Fi also play a significant role in realizing reliable and continuous services in the future. Wi-Fi 7 will be a complementary technology for enterprises indicating a vital trend in the telco industry towards an 'as-a-Service' approach to value-added solutions. 

At MWC 23, ZTE launched its new 5G Fixed Wireless Access (FWA) flagship product, which supports the latest Wi-Fi 7 technology standard.

 

 

eSIMs – Emerging Trend for IoT sector

 

With the rise of IoT connected devices, the need for on-demand, secure and scalable connectivity has become especially important. eSIMs, or embedded SIMs, are built into devices, such as smartphones and tablets, and can be programmed to connect to different mobile networks without the need to physically swap out SIM cards. This allows for greater flexibility and convenience for users. 

The use of eSIMs in the IoT sector is expected to provide several benefits, including greater flexibility for device manufacturers, reduced costs and complexity, and improved security and privacy. For example, eSIMs can be used to enable devices to switch seamlessly between different mobile networks, which can help to reduce connectivity costs and improve reliability in areas with poor coverage. 

Wrapping Up 

MWC was a fabulous event of the year! The major takeaways are Private 5G, AI, and the Metaverse which will redefine the future networks. Exploring the key trends of MWC 23, the telecommunication industry is very clear in the coming years that digital innovation and sustainability should go hand in hand. The 5G era will mark the participation of different stakeholders in releasing next-generation services, which opens immense opportunities for telecom and communication service providers.