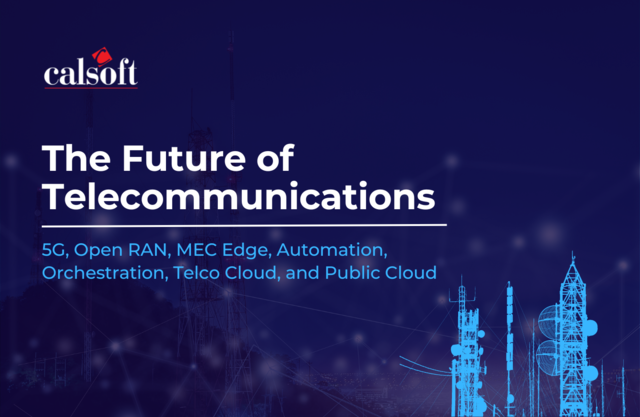 The global telecom market grew from $2868.37 billion in 2022 to $3041.8 billion in 2023 at a compound annual growth rate (CAGR) of 6.0%. 
This clearly indicates that the telecommunications industry is undergoing a major transformation, driven by the widespread adoption of 5G networks and the emergence of new technologies like Open RAN, MEC Edge, and cloud computing. These trends are changing the way carriers build, manage, and scale their networks, enabling them to offer more advanced services and improve the customer experience. 
Check out more on trends in networking and telecom here. 
One of the key benefits of 5G adoption is its ability to provide fast, low latency connections, making it ideal for a range of use cases, from gaming and entertainment to industrial automation and IoT. 5G also enables carriers to offer new services, such as high-definition video and augmented reality, that was previously not possible with older networks. 
Open RAN is another key technology that is changing the telecommunications industry. Open RAN provides carriers with a more flexible and cost-effective alternative to traditional RAN solutions, enabling them to build networks that are more scalable and responsive to changing customer demands. 
The rise of MEC Edge is also transforming the telecommunications landscape, allowing carriers to move to compute and storage resources closer to the edge of the network, where they can be used to deliver new services and applications. This reduces latency and improves the overall customer experience, making it ideal for use cases like gaming and virtual reality. 
Automation and orchestration are also playing an increasingly important role in the telecommunications industry. Automation can help carriers streamline their operations and reduce costs, while orchestration enables them to manage complex network environments more efficiently. Together, these technologies enable carriers to build more agile and scalable networks, while improving the overall customer experience. 
Finally, the rise of both Telco Cloud and public cloud is transforming the way carriers build, manage, and scale their networks. With Telco Cloud, carriers can take advantage of the cost savings and economies of scale associated with cloud computing, while leveraging advanced technologies like virtualization and containerization to build highly scalable, flexible networks. The public cloud, on the other hand, provides carriers with access to a vast array of cloud services and resources, enabling them to offer new services and applications to their customers. 
In conclusion, 5G adoption, Open RAN, MEC Edge, automation, orchestration, Telco Cloud, and public cloud are all driving the transformation of the telecommunications industry, enabling carriers to offer more advanced services, improve the customer experience, and stay ahead of the competition. As these technologies continue to evolve, it will be exciting to see how they continue to shape the future of telecommunications. 
Share your thoughts in the comment section below and get in touch with the author who heads Telco practice at Calsoft.