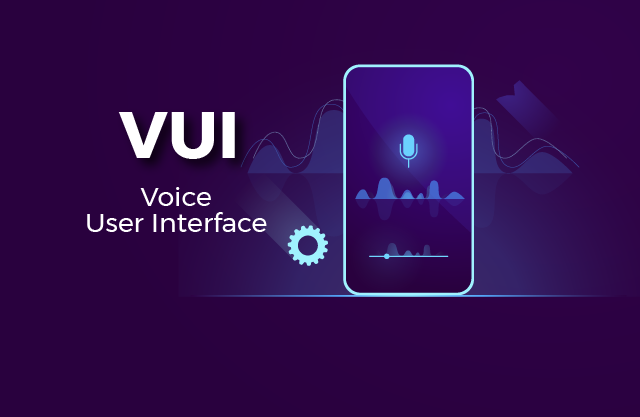 Voice user interface (VUI) is one of the key design trends in 2022. VUI is used for allowing the users to interact with the system through voice commands and complete the desired actions. Amazon Alexa, Google Assistant, Apple Siri, Microsoft Cortana, Samsung Bixby – all are the best examples of VUIs in the tech space today.
The main advantage of a VUI is that it allows for hands-free interaction with systems. This kind of interaction removes the need to tap on the screen or press buttons. VUIs are conversational interfaces like chatbots. A VUI understands spoken requests from the user and is able to answer these requests through voice outputs. VUIs are also packed with Artificial Intelligence (AI) and Natural Language Processing (NLP) technologies that ensure the interpretation of these voice commands is accurate.
Why Use VUI? Where Is It Used the Most?
There are two main reasons that encourage the need for voice-enabled user interfaces.
#1 Convenient Interaction: Home, public places, during commute, and at offices and other premises, VUIs can be used to make the human-computer interaction simpler. These VUIs will provide hands-free communication with a device or a system, thereby allowing users to multi-task. This makes a VUI an "anytime, anywhere" mode of communication.
#2 Better Interpretation: Getting the correct responses through voice messages has become more accurate than manually-entered or touch-fed messages. With NLP technologies, the accurate understanding of tone, volume, rate of speed, intonation makes the input messages clearer and more accurate.
As a result, in today's voice-first digital era, VUIs are best used for:
Performing a web search
Ordering goods and services
Online shopping
Playing music and media
Setting alarms, timers and reminders via smart devices
Getting real-time traffic updates via telematics
Devices That Use VUIs
Most of the visual UI designs focus on the different device experiences. A voice user interface, however, is more complex and has many use-case possibilities with devices such as:
Smartphones
Tablets
Desktops
Smart TVs
Smart speakers
Home Theatre Systems
Car Stereos/Infotainment Telematics
Wearables
Interactive Headphones
Internet of Things (IoT) Devices
Smart Home Appliances
VUI Triggers and How They Work
Designers can use several VUI triggers to improve the user experience and add value to end-users. Here are some examples and use cases:
Voice: Activating features and interactive functions.
Touch: Using call-to-action buttons via UI components.
Motion: Detecting specific movements to perform or activate features.
Location and Time: Use Location and Time triggers as reminders for actions.
The Process of VUI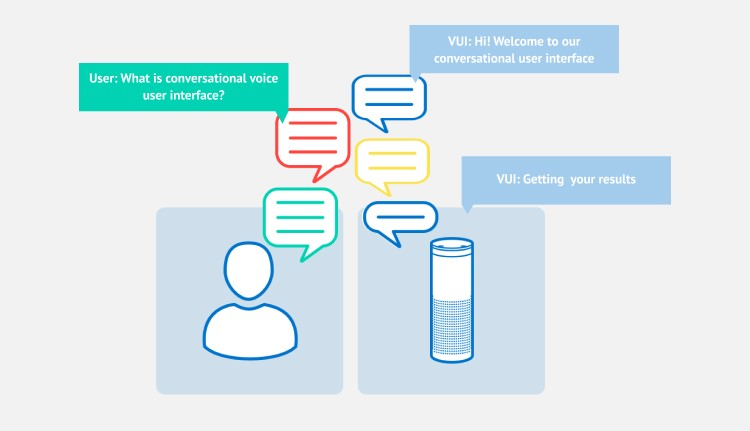 To understand how VUIs work, explore the following three designing phases of the VUI ecosystem.
Conducting User Research
Understanding the user problems and goals
Using methods like empathy mapping and user journey mapping
Identifying how and where voice can be used as an interaction method by including "voice" as a medium in the user journey maps
Designing Persona
A persona represents the name, image, and demographic information (age, gender, work information, etc) of the user, along with additional human-like traits and details
The goal of creating a persona is to help clarify the target audience and design the VUI with tailored decisions
Constructing Dialogue
Dialogue design is about the flow of conversation
Before creating a dialogue, the flow of the dialogue is constructed
The key focus is spoken conversation and natural flow of thoughts, responses, and queries
The use of simple sentences is encouraged, while jargon words and extremely technical terms are avoided
The Main Difference between a GUI and a VUI
When using Graphical User Interface (GUI), we can browse the information on screen at our own pace. n VUI, the user can't go to see the previous and upcoming information at their own pace. This is the main difference between VUIs and GUIs.
Advantages of VUIs
In some scenarios, such as driving or cooking, or even when you're across the room (away from your device), speaking is more conducive than typing or tapping, which makes VUIs more practical.
Physically disabled or handicapped users can use VUI-enabled devices to get information and perform actions.
Compared to typing, voice commands help in getting the information faster and also help provide input commands quickly, more accurately.
Speech recognition skills of the devices improve, thereby facilitating AI and NLP innovations.
Disadvantages of VUIs
VUI devices such as smart home devices are more expensive.
Lack of hand-based usability or physical inputs due to overuse VUI may make users incapable of using non-VUI devices.
We can't maintain privacy of the information as voice commands can be heard by others, and these interactions are also stored in a VUI Database, which can be prone to vulnerabilities.
The Future with VUI
The biggest need for VUIs is the prevention of errors caused by typing in the commands. Developers also need to work on security issues and work towards reducing security risks related to VUI ecosystems. Going forward, VUIs will play a major role in making human-computer interactions smarter and more convenient for all user demographics.