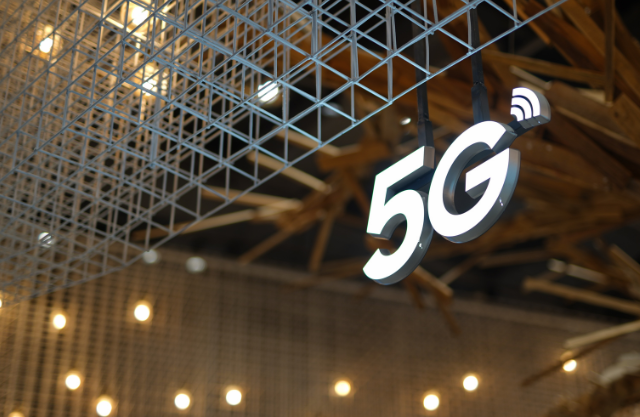 5G technology roll out signifies an immense revenue opportunity for telecom industry. As specified in the International Mobile Telecommunications – 2020 (IMT 2020), 5G supports complex services relating to diverse use cases such as enhanced Mobile Broadband (eMBB), massive Machine Type Communication (mMTC) and ultra-Reliable Low Latency Communication (uRLLC). However, to deliver these novel business models Mobile Network Operators (MNOs) face significant challenges with the current infrastructure. Network transformation is required from the traditional networks which are monolithic in nature, lacking flexibility, scalability, agility, and support to diverse services. The incorporation of different cutting-edge technologies such as Network Function Virtualization (NFV), Software Defined Networking (SDN), Multi-access Edge Computing (MEC) and Network Slicing has been envisioned as a solution in the network transformation.
Figure 1: 5G service  Based Architecture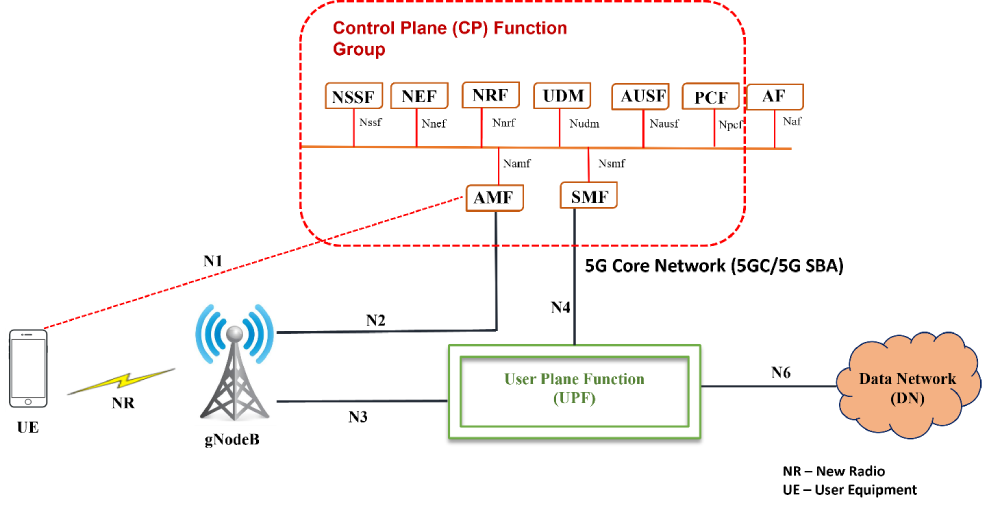 5G network will be unique with the Service Based Architecture (SBA) to deliver services for the new vertical industries such as Healthcare, Public Safety, Industrial Internet of Things (IIoT) and more. In 5G SBA, all the network elements are defined based on Network Functions (NFs). 5G SBA defined by 3rd Generation Partnership Project (3GPP) introduces a set of NFs to provide the control and user plane functionalities. SBA utilizes the concept of network slicing within the 5G Core (5GC) to provide insights into the application scenario. The 5GC network is based on SBA as shown in Figure 1, with web-based Application Programming Interfaces (APIs), which enables a more flexible and agile deployment of innovative services. The table shows the functionalities of each network element in the 5G framework.
5G Network Elements Functionalities
5G Network Elements

 

Functionalities

 

Access and Mobility Management Function (AMF)

 

Access and mobility control, UE Registration. AMF also ends non-access stratum (NAS) signaling

 

Session Management Function (SMF)

 

Session management and control user plane traffic

 

User Plane Function (UPF)

 

UPF is responsible for packet forwarding and routing. It performs packet inspection and Quality of Service (QoS) implementation. 

 

Network Slice Selection Function (NSSF)

 

Support network slice selection. Selects Network slice instances to serve the User Equipment (UE)

 

Network Repository Function (NRF)

 

Maintain NF profile and their functions. Helps to discover connections between NFs

 

Network Exposure Function (NEF)

 

Expose securely network capabilities and events

 

Unified Data Management (UDM)

 

Stores the subscriber information to support identification, access authorization and billing

 

Authentication Server Function (AUSF)

 

Stores authentication keys to authenticate UEs

 

Policy Control Function (PCF)

 

Maintain network policies to manage network behavior 

 

Application Function (AF)

 

Fulfils the role of application server. Interacts with 5GC to provide services

 

gNodeB

 

Hardware that connects to the network and communicates wirelessly with UEs 

 

Data Network (DN)

 

External network as Internet

 
Benefits of 5G SBA
In SBA, the approach is to evolve and develop network capabilities centered on the new generation of services presented in the 5G era. The key advantages of SBA are as follows: 
In SBA, NFs capabilities are exposed via R

e

E

presentational State Transfer

 (

REST) APIs and based out of HTTP2.0 protocol. Interconnection between NFs can be based on the Request/Response model or Subscribe/Notify model for availing the different 5G Services. This helps the Application-driven Digital Service Providers which require agility and quicker time-to-market for the products/services rollouts

 
The modularity of NFs and support of dynamic programmability enable the concept of network slicing in 5G. Multiple logical networks can be instantiated on-demand to serve different services simultaneously

 

Enables unified incorporation of third-party applications with the core network supporting mutli-vendor plug and play solutions

 

Deploys NFs as containers with modular and cloud-native solutions. This helps in faster innovation and quick service delivery

 
In Brief
5G SBA is a programmable framework design for the interconnection of 5G NFs in the Core and exposure of network capabilities & resources through Service Based Interface (SBI). The full potential of SBA can be utilized with the 5G standalone architecture, enhancing the end-user experience, and opening economic opportunities for telecom operators.