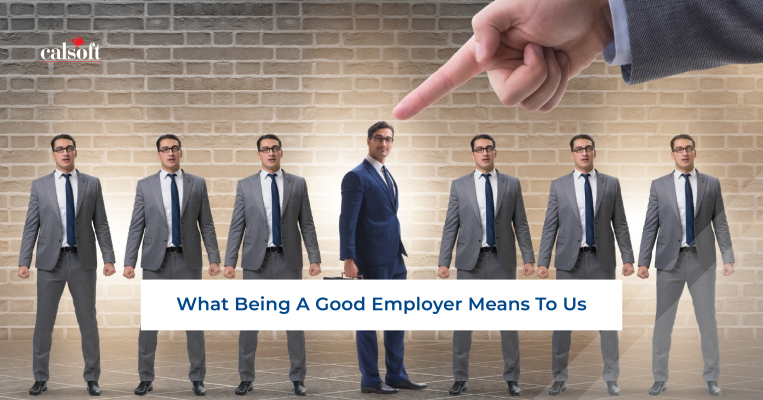 Learn. Grow. Lead. Stand out! That's the Calsoft model that propelled us to win the 'Pune Best Employer Brand Award 2021 for Excellence in HR & Marketing Communications'. We're justifiably proud of this achievement. We are convinced that this award is reflective of our organizational culture which focuses on collaboration, inclusion, and innovation.  
Our employees are our most valued assets. Many joined us very early in their careers, and through their acumen and some help from us, they now shine as bright as the stars themselves. But to ensure our employees stick around with us long enough to mature into unbeatable pros, we make sure they're happy and motivated.  
We've designed many initiatives to ensure every Calsoftian not only enjoys their work – but also enjoys working. It's no secret that good employers have the best employees. That's why most companies, including ours, strive to be good employers for our teams. But if you don't believe us. Listen to our folks. 
Amit Gogate, a technical architect, says, "I love being in Calsoft because of 3 reasons; the nature of the work, its open-door culture, and our amazing talent pool. We work with leading vendors, startup companies, and more. I like the friendly and open culture here. I also like the amazing engineers I work with here." 
Another Calsoftian, Nilesh Arte, who works as a DevOps Team Lead, says that he loves the culture in the company. "I love the techy culture at Calsoft. People are passionate about their work and we have a lot of young energy in the company that makes it lively."  
Mohsin Khazi, a veteran, has this to say, "Time flies at Calsoft. "It's been more than 7 years that I am working with Calsoft. I love working here not just because of the amazing work culture and co-workers, but the opportunities I get to work with a range of customers and on cutting-edge technologies. I like the way we have freedom here to explore new technologies and learn new things along with our projects." 
With so many people experiencing shared feelings of cultural cohesion and more, you must be wondering, what powers our strategies? Well, here are some of the tenets that we follow: 
Core Product Engineering Technologies 
This is in our DNA from the top leadership down to the newest fresher hire. The promise is that our projects will give quality and valuable work experience on core software engineering technology. When you work with us, you get exceptional opportunities to work on a wide spectrum of technologies such as virtualization, storage, cloud, IoT, AI/ML, Blockchain, Open Source, and many more that have a far-reaching impact across crucial industry verticals including storage, networking, and data center. These projects will accelerate your learning, ensure holistic career growth, have a fantastic work-life balance, and guarantee total work satisfaction. 
Perennially Relevant but Dynamic Work Domains 
Another part of our DNA. Our permanent focus is on giving our employees a plethora of opportunities to work on cutting-edge technology. That includes new-age, trending tech that is relevant in the ever-evolving data space. Our employees get to work with the biggest and brightest in the industry, thus gaining precious work experience and staying up-to-date at all times. That makes our people feel ready for whatever the future will throw at them – and keeps them intellectually engaged. 
Progressive Perks and Benefits That Rival Global Standards 
There's life beyond work. Around 78% of employees say they're more likely to stay with an employer because of their benefits program. That's important to think about since the cost of replacing an employee can range from 50% to 400% of their annual salary. But most importantly, perks and benefits make employees feel appreciated and seen. With this in mind, we offer our employees excellent benefits such as flexible work hours, clubs, sports areas, events, activities, financial, educational, and wellness support. We also offer them bonuses, awards, and holistic career growth initiatives.  
What Makes Calsoft Unique? 
Long-Term Career Growth Plans: We prime our employees for leadership positions and encourage everyone to aspire to leadership positions.

 

Skillset and Choice-Based Growth Programs: Your career will go in the direction you need it to go in. Develop a customized career growth program based on your skills and choices. That helps you understand what you're cut out for.

 

Happy Organizational Culture: Our office environment is inclusive, open-door, and diverse. Whether you're a beginner or a seasoned expert, you'll get to experience freedom and responsibility that will fulfill you creatively.

 
Mentor-Mentee Programs: Mentors are an essential part of growing in your career. Dedicated experts as mentors and access to tools and resources will create the opportunities you need to excel in both your professional and personal life.

 

Educational Support: We encourage self-improvement by supporting higher education based on your choice in the tech domain. We have a tie-up with a reputed institution. You'll be able to upskill with ease.

 

Financial Growth Plans: We help our employees grow their wealth with our special programs. We have allowances, discounts, and bonuses that are unbeatable in the industry.

 

Bonding Activities: We have events, celebrations, contests, and a whole host of other activities to help everyone kick back and have fun when they need to.

 
That's how we ensure our employees are happy and motivated and that is reflected in our achievement, we'd say. Here's to creating more memorable years together – as a family.