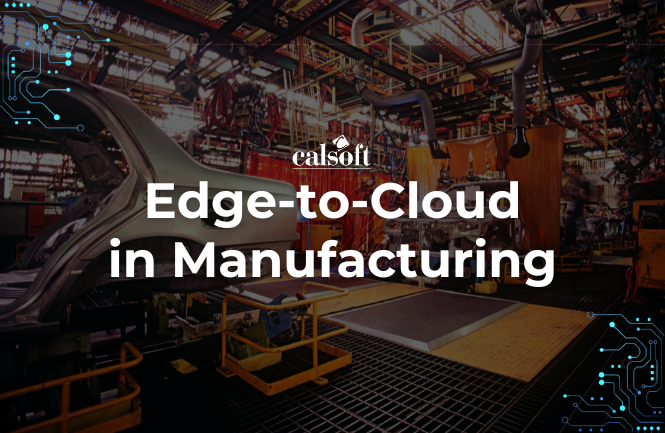 Edge-to-cloud strategy refers to the integration of edge computing, where data processing and analysis is performed at the edge of a network near the source of the data, with cloud computing, where data is stored and processed in remote, large-scale data centers. In this approach, the data collected at the edge devices is sent to the cloud for further processing, analysis, and storage, allowing for the extraction of valuable insights and enabling a range of new applications.
In the manufacturing industry, an Edge-to-Cloud strategy can bring a number of benefits and challenges.
Benefits of Edge to Cloud in Manufacturing
Improved operational efficiency: Edge computing enables real-time monitoring and analysis of data generated by machines and other devices in a manufacturing environment, which can help to improve operational efficiency and reduce downtime.
Increased agility: By integrating edge computing and cloud computing, manufacturers can respond quickly to changing conditions, reduce the time to market for new products, and accelerate the development of new applications and services.
Enhanced insights and decision-making: Edge-to-cloud strategy can provide manufacturers with real-time data from their operations, enabling them to make informed decisions and take corrective actions in a timely manner.
Scalability: By leveraging cloud computing, manufacturers can scale their IT infrastructure up or down as needed to meet changing business demands, without having to invest in new hardware and infrastructure.
Challenges of implementing an Edge-to-Cloud strategy in Manufacturing
Security: Protecting sensitive manufacturing data, both in transit and at rest, is a major challenge when implementing edge to cloud strategy.
Latency: Data transmission from edge devices to the cloud can be slow, which can impact the real-time nature of some edge computing applications.
Cost: Implementing an edge-to-cloud strategy can be expensive, as it requires investment in new hardware, software, and networking infrastructure.
Interoperability: Ensuring that different edge devices and cloud platforms can work together seamlessly can be a challenge, especially if they use different protocols and technologies.
In conclusion, while there are certainly challenges to implementing an edge-to-cloud strategy in manufacturing, the benefits in terms of improved operational efficiency, increased agility, enhanced insights, and scalability make it a valuable investment for many manufacturing organizations.
Edge-to-Cloud Use Cases for Manufacturing Industry
Edge-to-cloud technology has many potential use cases in the manufacturing industry. Some of the most common applications include:
Predictive maintenance: By collecting data from edge devices, such as sensors and machinery, manufacturers can use machine learning algorithms in the cloud to predict when equipment is likely to fail and take proactive measures to prevent downtime.
Quality control: Edge computing can be used to monitor production processes in real-time, helping manufacturers to identify and resolve quality control issues as they arise.
Supply chain optimization: By analyzing data from various sources, including suppliers, logistics providers, and edge devices, manufacturers can optimize their supply chain operations, reducing waste and increasing efficiency.
Real-time monitoring and control: Edge devices can be used to monitor and control manufacturing processes in real-time, allowing manufacturers to respond quickly to changes in conditions and improve overall efficiency.
Inventory management: Edge devices can be used to track inventory levels, helping manufacturers to make informed decisions about ordering and stocking materials.
Safety and security: Edge computing can be used to monitor safety and security in the manufacturing environment, alerting workers to potential hazards and allowing them to respond quickly to incidents.
Remote troubleshooting: Edge devices can be used to diagnose and fix issues with machinery and other equipment remotely, reducing the need for on-site maintenance and increasing overall efficiency.
These are just a few examples of the many ways in which edge-to-cloud technology can be used in the manufacturing industry. The specific use cases will vary depending on the needs and goals of each manufacturer, as well as the technologies and infrastructure that are in place.
Source: https://www.linkedin.com/pulse/edge-to-cloud-manufacturing-somenath-nag/