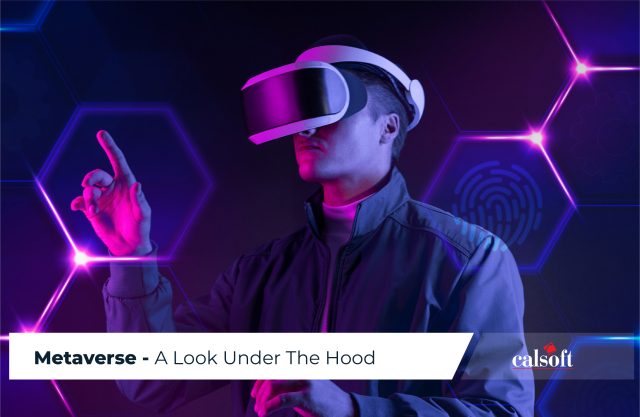 "We believe the Metaverse will be the successor to the mobile internet." 
– Mark Zuckerberg
Touted as the next big tech-enabled iteration of the real world, the Metaverse is estimated to be a USD 800 billion market opportunity according to some studies. This vision of an immersive virtual experience supported by a range of AR and VR technologies in conjunction with other emerging digital assets is now a hot topic of focus in the tech community. From Google to Facebook (Meta) and Microsoft, nearly every major tech company is investing billions of dollars in building resilient Metaverse ecosystems. 
However, what does this mean for traditional Software ISVs and service organizations? Will they have a role to play in the Metaverse ecosystem? 
The answer is" Yes".  
There is a wide range of opportunities for IT product ISVs and service companies to liaison with Metaverse creators to offer tailored services as per requirements.
Let us examine a few of the primary areas where technology companies and ISVs can help propel the Metaverse into a much better position in market adoption. 
Building applications for the Metaverse
The enthusiasm for the Metaverse will push the need for intelligent applications for different use-cases. For software product ISVs as well as for custom software development organizations, the main area of focus in this regard would be to help their customers ideate and bring into reality a host of apps capable of creating immersive experiences. 
They will build apps that can engage potential consumers in the Metaverse. From choosing the right architecture for tomorrow's Metaverse apps, to empowering extensible features, technology vendors and software service organizations can be part of and actively contribute to many initiatives. Building apps for the Metaverse will require the coordinated integration of AR or VR capabilities into the core user experience of the application. Only then would consumers be engaged in the immersive aura of the virtual space.
Configuring the ecosystem
The Metaverse may take time to mature but the building blocks must be built now. The roadmap of progress will depend heavily on the capabilities of the technology ecosystem that supports the initiatives launched by enterprises on the metaverse. 
This foundation should be (and is poised to be) superior to legacy development environments and ecosystems observed in such large-scale initiatives. For instance, the need for offering immersive experiences for end-users will require developers in the Metaverse landscape to shift their core workloads into the cloud. End-users may not have the computing bandwidth to enjoy the full experience of the Metaverse. They will probably be using their smartphones to access the Metaverse. In such cases, software services organizations can step in to help developers in the Metaverse ecosystem leverage the right technologies to launch and run their Metaverse apps. For example, they could help in deploying custom Metaverses on modern high-performance cloud servers, build interfaces and access points to help expand the Metaverse and facilitate interoperability with other Metaverses, ideate, build, and deploy virtualization environments and much more.
Enable secure experiences
We have already seen how NFT marketplaces have become a hotbed of investment and transactions. There have been instances where digital art was sold at prices close to USD 69 million in such marketplaces. Nearly all NFT players will leverage the Metaverse to build their own fanbase and transactional ecosystem. Additionally, we are already seeing investments pouring into buying virtual land across the Metaverse. One of the most intriguing news heard in this space recently was someone paying around USD 450,000 to simply buy virtual real estate near another parcel of virtual land owned by Snoop Dog. The bottom line is that there is a surge in monetary transactions happening in the Metaverse, in addition to massive volumes of data being generated and exchanged. Software ISVs and service companies can play a huge role in helping build secure and safe information highways in the Metaverse where transactional data can flow and be securely managed. They can help Metaverse creators meet compliance and security norms across different markets with custom services.
Collaborative innovation
No need to remind anyone that the Metaverse is an evolving technology space. As more people begin to rely on it, brands will need to bring in more advanced and highly engaging practices into Metaverse development. Being a completely virtual world, every innovation that eventually grows into capabilities within the Metaverse will be digital in nature. This is where Software ISVs and service companies can discover their next big development and testing opportunity. By partnering with Metaverse creators, they can help in jointly developing new innovations, use-cases, and experiment with introducing emerging technologies like AI, Blockchain, etc. into core facets of the Metaverse.
The Metaverse will be a pivotal and central part of our daily lives. From unlocking new social avenues in immersive virtual spaces to creating virtual workplaces for replicating the office ecosystem virtually from anywhere, the possibilities of the Metaverse promise to be limitless. However, being a relatively nascent technology, creators and businesses wanting to establish themselves in the Metaverse, need to have a clear roadmap of how to progress profitably without risks. This is where our experts can help bring a key difference. Get in touch with us to know more about creating winning experiences on the Metaverse.